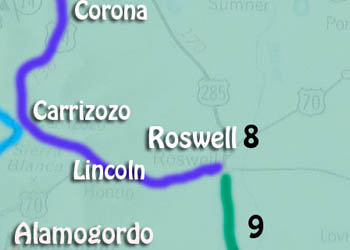 Having already been to
Area 51 in Nevada a few years
ago I had always wanted to visit Roswell so I adjusted my itinery to fit it in. On the way I passed near to Corona, the location of the farm where the 'UFO crashed' back in 1947.
Having spotted no UFO's on my way I did notice that 'aliens' decorated the local Walmart and lamp posts in Roswell itself.
Highlght of the day was the visit to the UFO Museum which is certainly worth a visit if you are in the area. There is lots to see if you are at all interested in UFO's. Information. art, cartoons, newspaper reports, exhibits - all at the Museum.