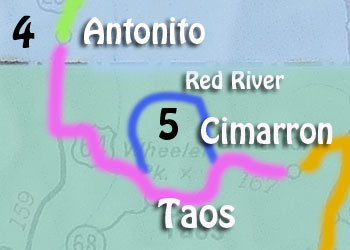 An early departure from Antonito and into New Mexico with a few dawn pictures before reaching the Rio Grande Gorge Bridge. Then I visited the San Fransico De Asis Mission Church in Ranchos de Taos one of the best known and photographed churches in New Mexico.
This authentic adobe church was started in 1772 and completed in 1815. Its ageless beauty makes it a powerful and luminous landmark.
After lunch I continued round the 86 mile 'Enchanted Circle' north of Taos calling at former mining town Red River before arriving at my night stop at Cimarron.






























Taos and the Enchanted Circle