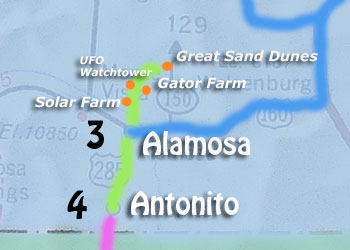 Day 3 started before dawn driving north out of Alamosa on 17 to the turnoff for the Great Sand Dunes.
There is only a short window of interesting light as the sun comes up behind the Sangre de Cristo mountains and I just about made it in time before the dunes become flat and less interesting.
I then visited the nearby UFO Watchtower (closed alas) and the huge Solar Farm before spending some time at the Gator farm which houses some 400 alligators.
The solar electric plant which cost over 60 million dollars should be able to power over 2600 homes.
Part 1