City v Chelsea 0-3 Oct 19th 2002
34,953
Having just returned from holiday - hence the missing Liverpool game - I was hoping City, having missed my presence, would return to form. For 60 minutes things looked promising with City playing good football ,albeit not with much luck. Early on Goater, who was in for Huckerby as partner for Anelka, was blatantly pulled back by by Desailly whilst going through. Alas referee Gallacher failed to spot the offence and Desailly escaped a probable red card. Unbelievable - but there was more to come. Cudicini who had a good game in goal for Chelsea was beaten by Berkovic but the ball hit the post - below left. The city defence apart from the odd corner - below right - looked comfortable against the twin attack of Zola and Hasselbaink.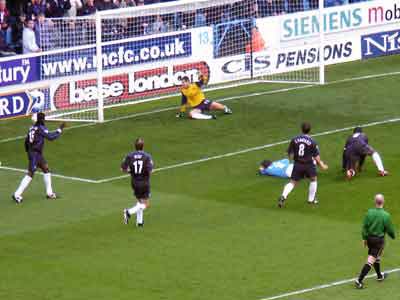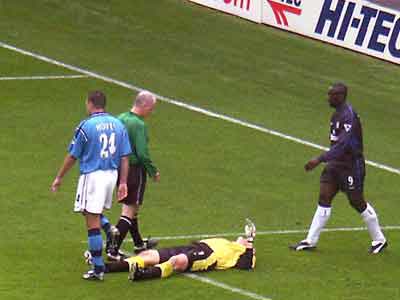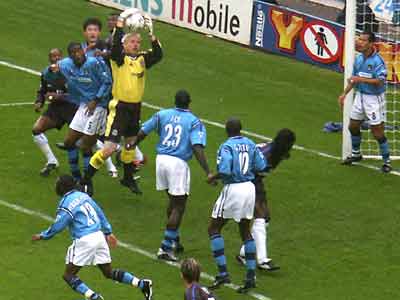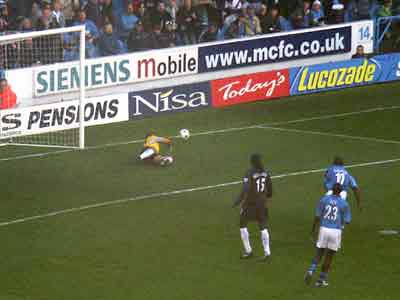 There was some consternation when Schmeichel looked to be badly injured after a clash with Hasselbaink but he recovered quickly
Cudicini was kept busy making good saves from Foe and company. He had a lucky escape - below - when his block from a Bernabia shot just evaded the oncoming Berkovic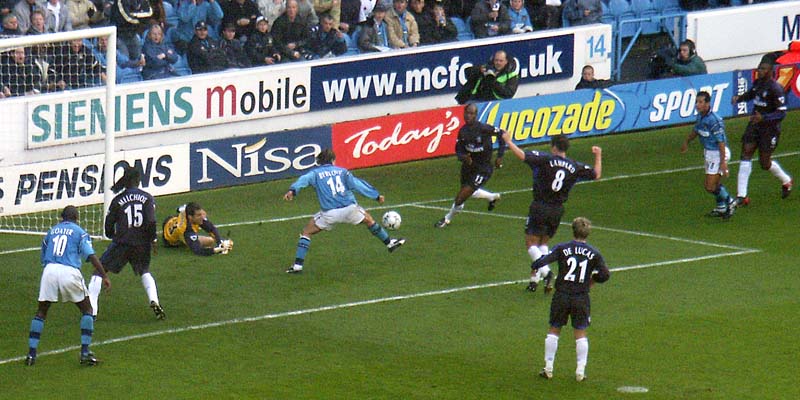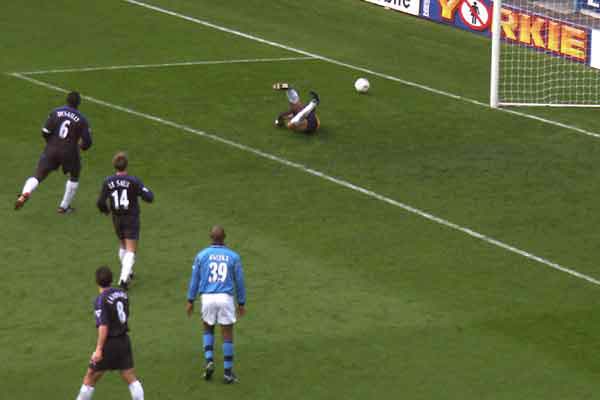 Cudinici with yet another save to thwart a frustrated City forward line.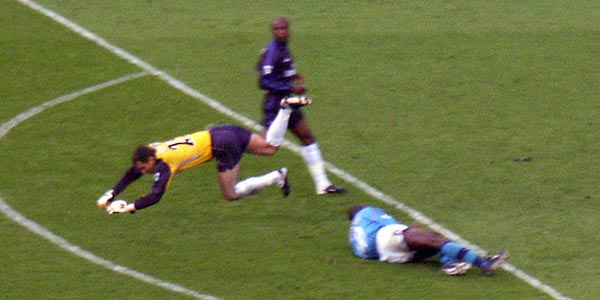 Cudicini dives forward in spectacular fashion to gain a free kick.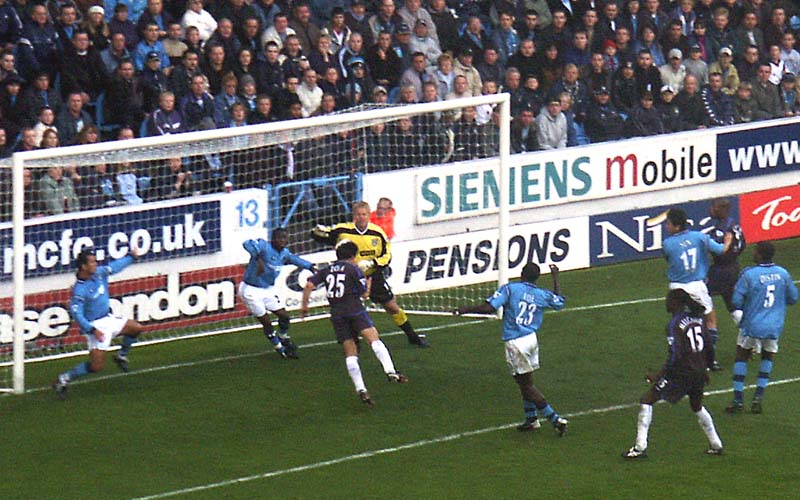 After 70 minutes Chelsea struck . A corner on the right was deflected by Jensen right onto the head of the diminutive Zola who said thank you for this early Christmas present and nodded it past Schmeichel and Co for number one - above.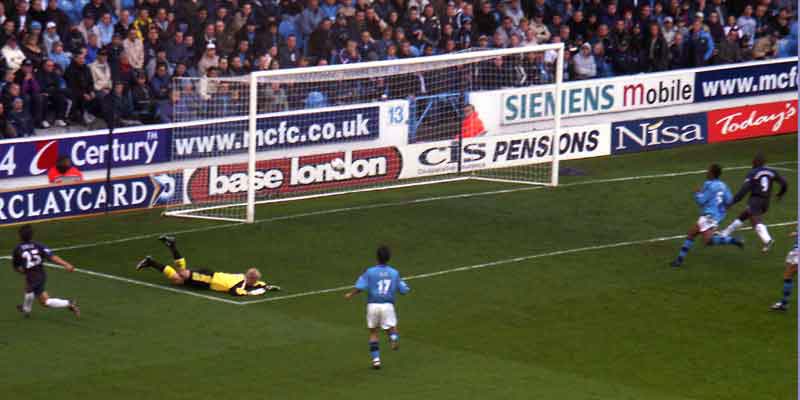 City then fell apart. Huckerby came on for Goater but made little impression on the Chelsea defence and as City pushed up gaps appeared behind and after 84 minutes Zola found himself unmarked with defence caught square and having to play catch-up.From a narrow angle he shot past Schmeichel to make it two nil - above.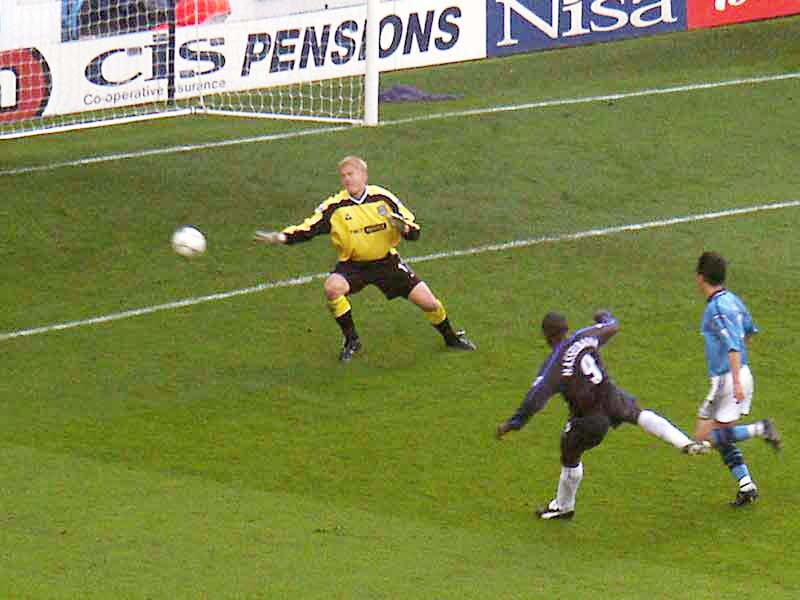 A minute or so later the departing City supporters quickened their step as Chelsea scored a third through Hasselbaink - above - who beat Sun after receiving from Melchiot. Oh dear! For 60 odd minutes City looked the equal is not better than Chelsea. If relegation is to be avoided there must be some serious thinking in the City camp. Benarbia and Berkovic in the same line-up for 90 minutes is asking a lot. The absence of Macken and Wanchope through injury is limiting Keegans options up front. Goater does not look Premier standard. Wright-Phillips, though he gets through a lot of work, appeared to be inhibited on his runs down the right flank - perhaps due to orders- but his final ball was invariable misplaced and on several occasions gave the ball away to the opposition. Sun Jihai looked good for 70 minutes then fell away . It all could have been so different if City had scored from any of those early chances. However you make your own luck and the lack of concentration sometimes is going to be City's downfall. Two away games against West Brom and Birmingham will give Keegan a chance to grind out some points before the 'derby' game in November.
Team:- Schmeichel 7: Sun 6,Wright-Phillips 6, Howey 7, Distin 7, Jensen 6: Berkovic 7, Benarbia 7, Foe 7:Goater 6, Anelka 7