Manchester City v Southampton 0-1
May11th 2003 att.34,957
With all that was going on I suppose it would have been too much to hope for a City win in the very last game at Maine Road. Having lost to West Ham in the last home game - sorry I missed that one - I had to listen to the commentary on 909 in the car whilst parked in a layby in deepest Wiltshire - followed by the excellent win at Anfield we might have been ready to finish on a high and in eighth place. Alas it was not to be .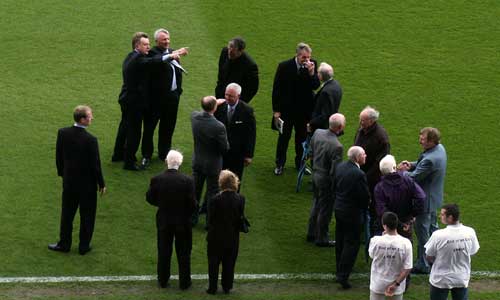 A gathering of the old favorites was a nice touch in this farewell. The only things missing was an appearance by Bert Trautman and the Beswick Prize Band. I would have loved to have heard their rendition of 'Blue Moon'. In the picture on the left Peter Barnes is pointing out to Mike Summerbee the place where his fan club chairman sits!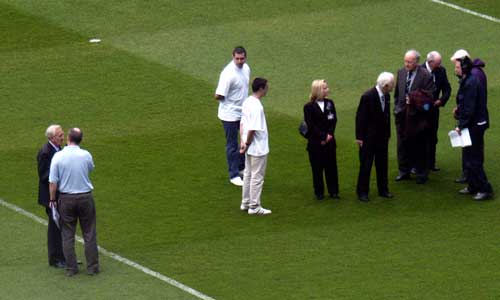 While Ken Barnes is being interviewed on the left a white haired Roy Clarke talks about his debut against Newport County on June 14th 1947. I remember it well. George Smith who was also introduced to the crowd scored 5. There were 22000 present on a bright summers day and I watched from the lower Kippax at the Platt Lane end of the ground. The City team that day was
Swift,Sproston,Barkas, Fagan McDowall Walsh, Dunkley Herd, Black, Smith and Clarke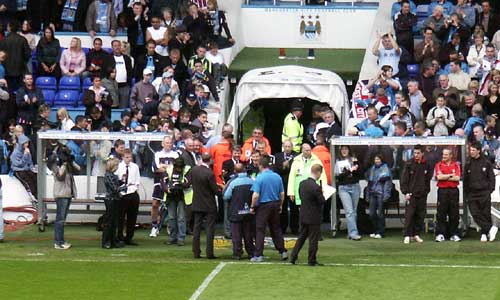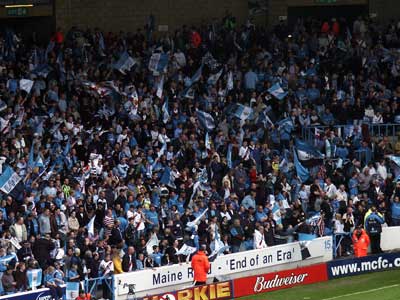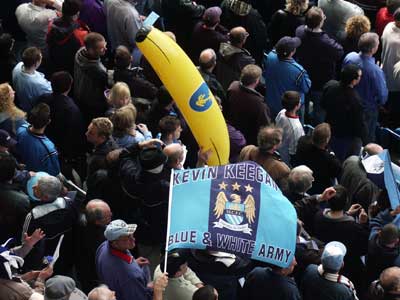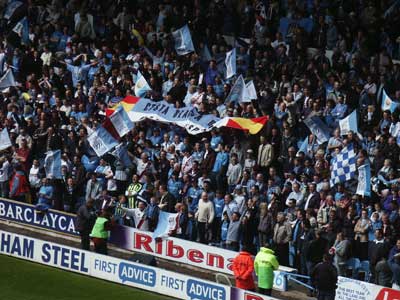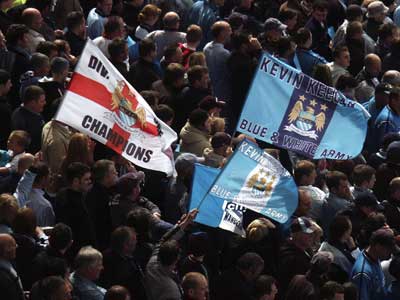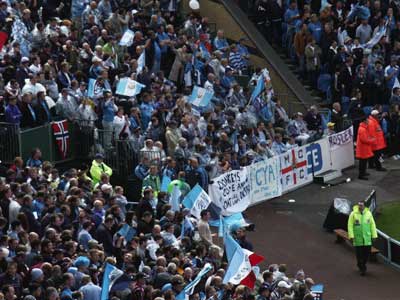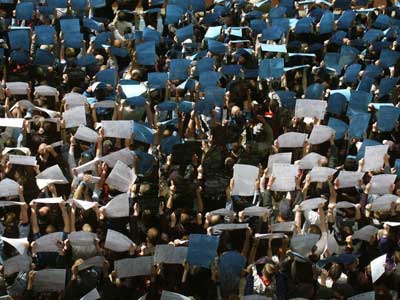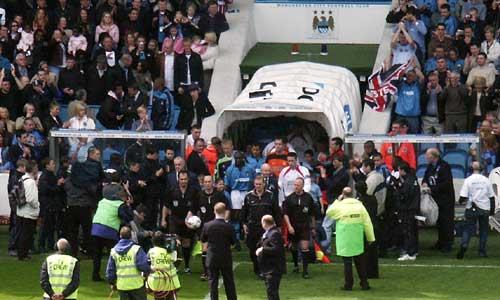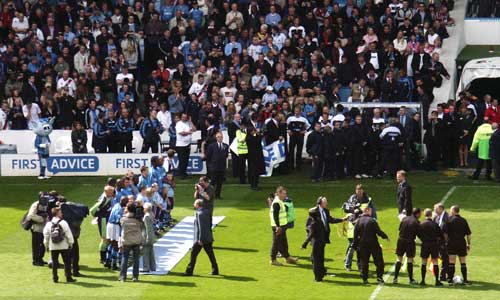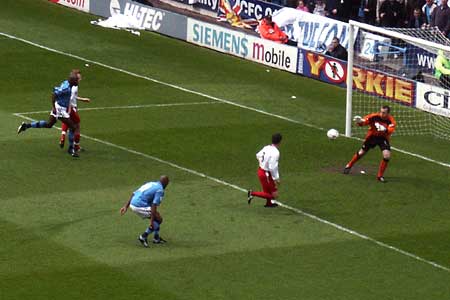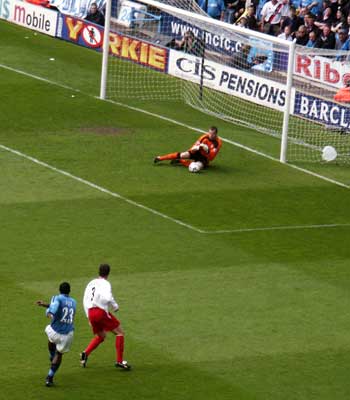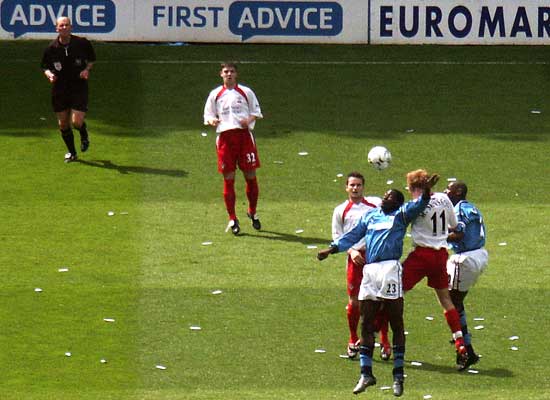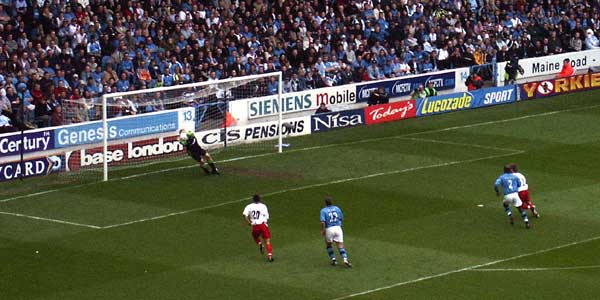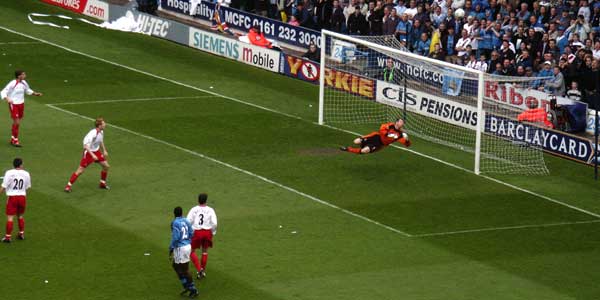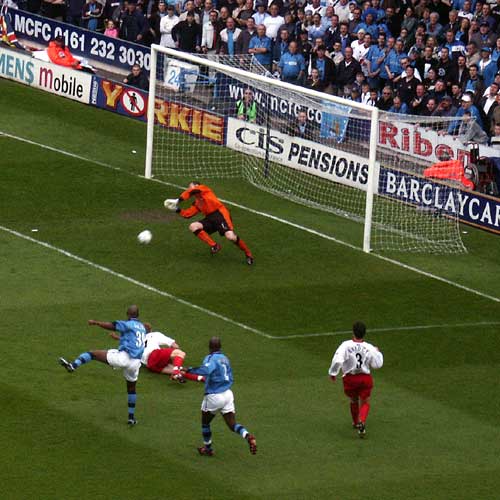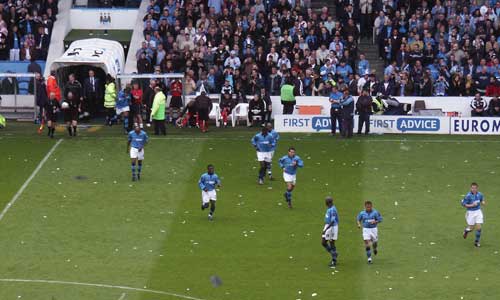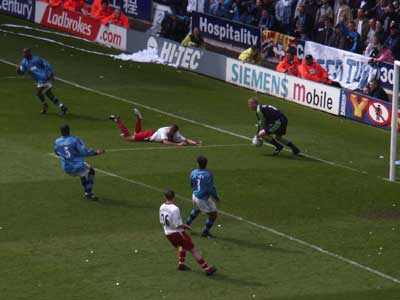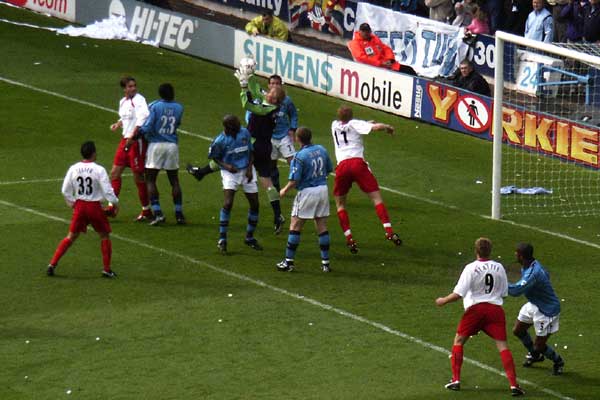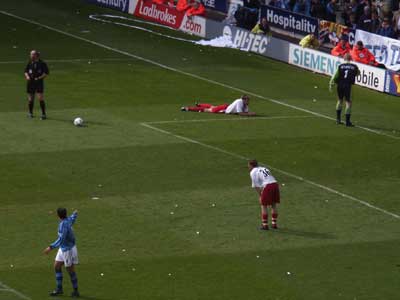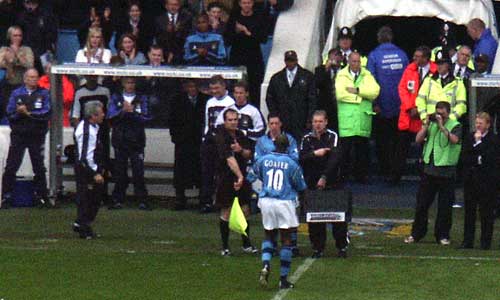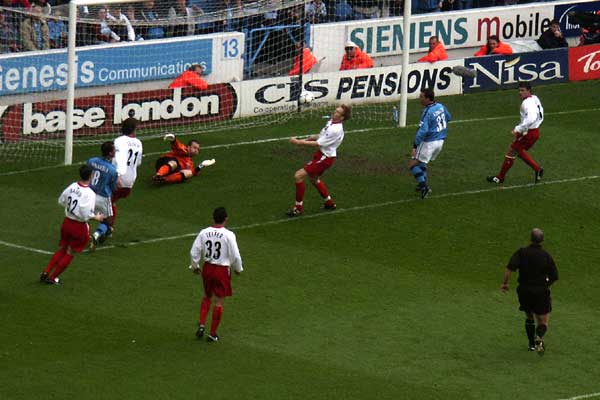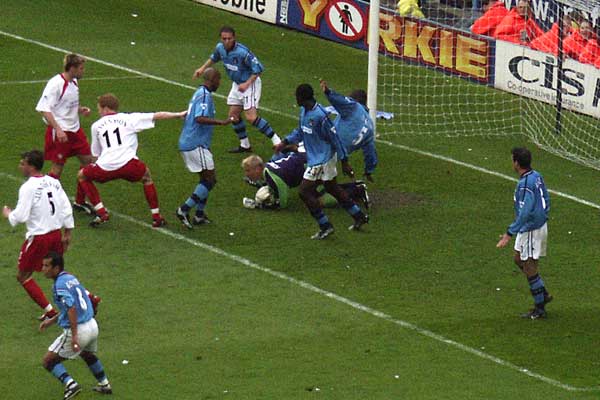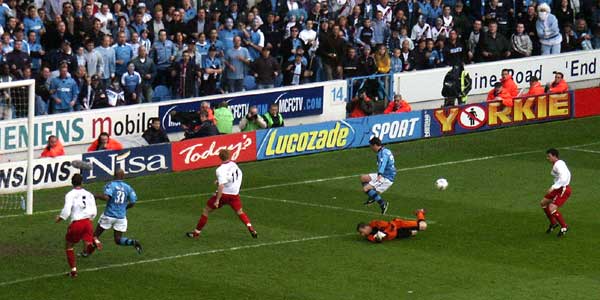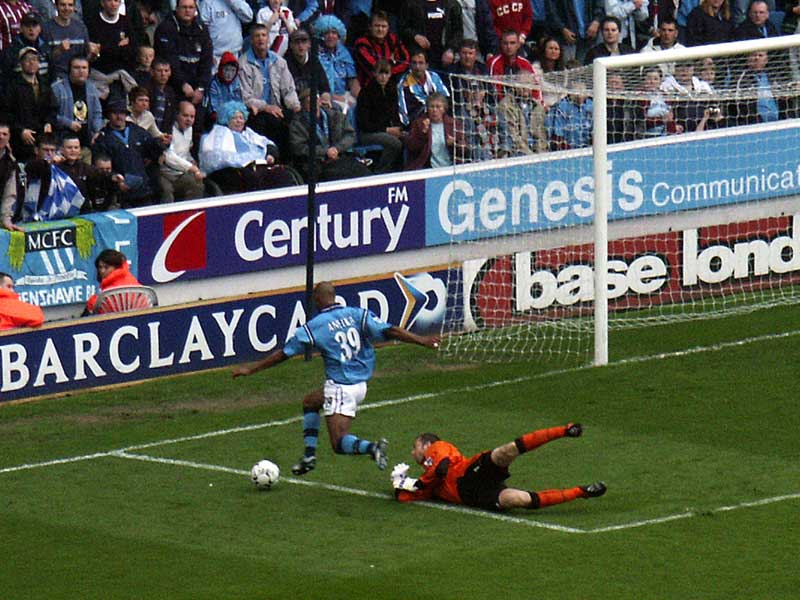 Peter Schmeichel's last catch in first class football
City come out after half time for the very last time at Maine Road - a goal down. The weather was following typical City form. Rain one minute , sunshine the next.
Head Groundman Roy Rigby receives a well deserved award for winning the Premier League Groundsman of the Year trophy. The pitch as usual was in immaculate condition. When I think back to 'the so called good old days' the pitch was worn out by Christmas and there was barely any grass left at all at the end of the season!
By the time Shawn Goater led the team out on his farewell appearance the noise of the packed stadium would have been heard for miles.
The teams were presented to a spritely 83 year old Norah Mercer, Colin Bell and Malcolm Allison.
Paul Jones was easily the busiest of the two keepers saving from Anelka and Foe in the early stages
Foe and Goater tussle for a high ball with Southampton defenders
One of the few save Schmeichel had to make in the first half - from a free kick by Beattie.
Anelka's shot is well saved by Jones who was keeping the Saints in the game.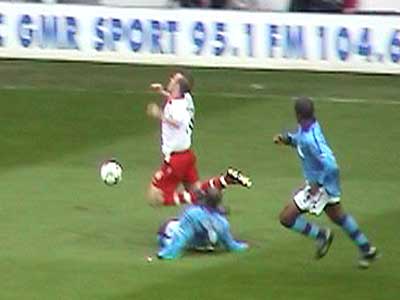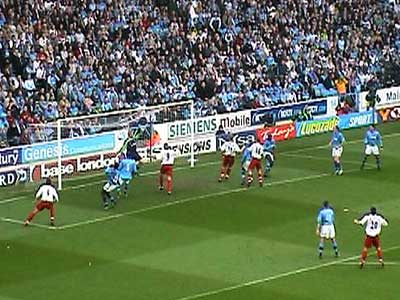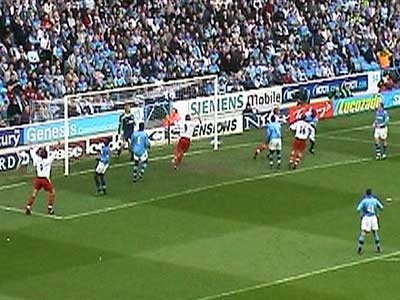 The sequence of the very last goal at Maine Road. Ormerod dashes down the wing pursued by Distin and Sommeil. Sommeil fouls the Southampton player and from the resultant free-kick Michael Svensson heads past Peter Schmeichel. Sorry for the quality. I was shooting video at the time and had to extract the frames. An AVI to come.
Yet another save from Jones foils City and prevents an equaliser.
After 63 minutes Beattie got booked for cheating. He did a dive after being tackled by Sommeil. Not the action of a possible England player.
At the same time Shaun Goater came off to thunderous applause to be replaced by Robbie Fowler.
A big blow -up to show a famous supporter watching the duel between Anelka and Jones. She is 83 year old Helen Turner - in the front row just above Anelka. She is wearing a blue wig and normally rings a bell. Years ago when I was in the back of the main stand I used to have a klaxon horn which I used sometimes. I don't think I was very popular with those just in front of me!!
Jones in action yet again!
City could not get the ball in the net
Peter Schmeichel's last save of his career with about five minutes or so to go.
My last action shot at Maine Road as Fowler jumps over Jones who saves once more.
It is a great shame that City did not put away just a few of the chances that came their way to give supporters a little more to remember about this game. Southampton did not make it easy but I hoped City would rise to the occasion.
Team
Schmeichel 6; Dunne 6, Sommeil 6 Distin 7, Jensen 6: Foe 6, Wright-Phillips 7, Benarbia 6, Barton 6: Goater 6, Anelka 7: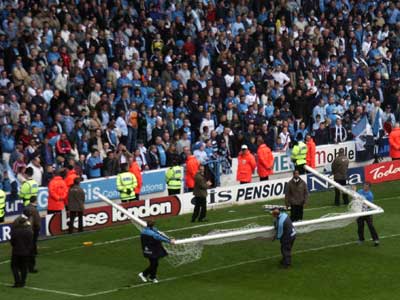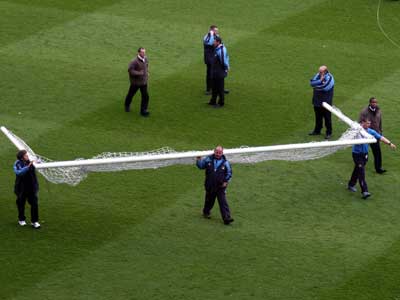 First we had the sad sight of the goal posts being carried away for safe keeping.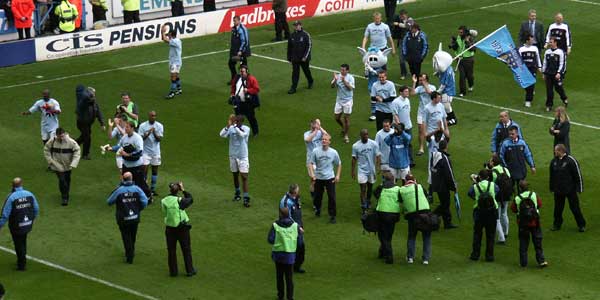 The players walked round the ground to say thanks to the supporters. It would have been nice for Kevin Keegan to have been there too.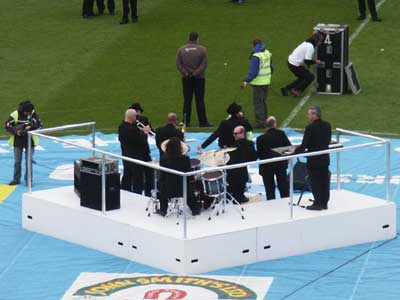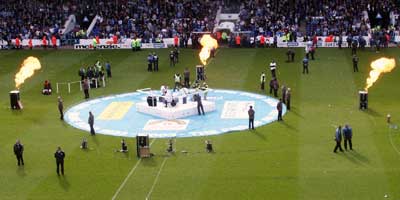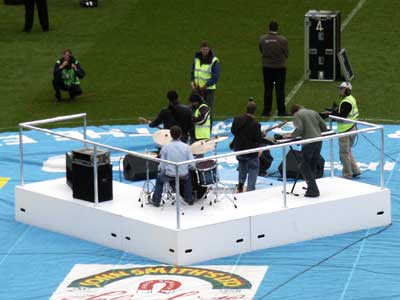 I suppose many like me were too emotionally exhausted to really enjoy the hour long post match music provided by the Blues Bros, The Doves etc Eventually there was time for one last look at the Kippax before heading for home and to start planning for a new route to take in a few months time.
Season Round-up
Schmeichel -9- an excellent final season and will be difficult to replace. Nash alas, is not in the same class and Weaver having missed a season may not have made much progress since he last played. So who does Keegan sign? Oliver Kahn from Munich? Sorensen from Sunderland or James from West Ham ?
Dunne - 6- Had a mixed season. Good in some games, indifferent in others. I feel he will be replaced eventually.
Sommeil- 7- Improved as the season progressed. Will prove a good buy.
Distin - 8 - Had a good season overall
Jensen - 7 - Pretty consistent. Rarely had a bad game . Scored a wonderful goal that featured in the ITV goal of the season competition.
Sun - 6- Started well but fell away in the latter stages of the season.
Howey - 6 - He too fell away after a good start. Lack of pace on the turn counts against him. Might be going.
Wright-Phillips -9- Has been a revelation this season. If only he could improve his finishing.
Benarbia- 7- Found it more difficult than last season. Failed to dominate as he did in Div One. Only kept a regular place after Berkovic was injured. Lacks that extra zip for the Premiership.
Berkovic-9- City missed his creativity when he was out injured. Was the main provider for the strikers.
Horlock - 6 -Had an average season and failed to keep a regular place towards the end when Barton came on the scene.
Foe - 7- Another player who had a mixed season but his ability to score coming from midfield proved useful. May return to France.
Barton- 8- Took his chance well and looked comfortable in the holding role in midfield. Could be a regular next season but must watch those yellow cards.
Belmadi -6- I expected more from Belmadi. Don't think he will be retained.
Goater- 7- Lost his place once Fowler arrived. His goals against the reds will not be forgotten. Perhaps is not quite upto regular Premiership standard now. Needs feeding!
Fowler - 6 - Not yet upto full fitness. Has yet to show full potential with Anelka. Needs that extra speed of thought and action.
Anelka - 8- Worked hard and was the highest scorer with 14. Also made lots of chances. Needs to avoid being offside so often. His speed was impressive.
I have not included Tiatto, Wiekens, Macken and Nash.
The highlight of the season was no doubt the win over United in November but you must not judge the whole season on one result no matter how important it was. The main cause for concern was the poor home form overall. To lose almost as many home games as away games is not just on. There were at least 6 games we should have won and the resultant points would have put us in the top 5 and a deserved place in Europe not the possibility of a backdoor entrance through the fair play league! The injury to Berkovic robbed us of our main provider but we must not rely totally on him. Others must play a part too. Anelka featured in several of the Opta end of season top player lists- 4th behind Henry, Van N, and Owen in the shots on target list but he was also top of the offside list! I hope some attention is given to sorting this out in pre-season training. Distin came second in the tackles won list behind Frandsen and Berkovic 5th in the assists list. On a negative note, Foe was 8th in the foul and cards section. In the top 10 player of the premiership league Peter Schmeichel was 5th in the keepers section (Brad Friedel being top). In the defenders section Distin was 8th. Berkovic was 9th in the attacking midfield and Anelka 8th in the strikers league (www.opta.co.uk)
For next season I hope Wanchope will be available as will a fit Macken to back a fully fit Fowler (we can only hope) and Anelka. If Berkovic can keep fit and Wright-Phillips keeps improving then the goals will come. I hope Mettomo is given a another chance. He seemed to lose favour with the manager after November and like Tiatto should be fit for the new season. If Bischoff can follow Barton into the first team squad then the future looks good. A new keeper is on the cards and we also need another YOUNG creative midfielder to take over from Berkovic - Duff !!!! no chance.
I noticed that we finished just above Middlesbrough in the yellow/card table so we may well be 'in europe' next season. Get out your atlas.
City have now been chosen as Englands representative in the Fair Play League so there is a good chance that atlas will come in useful!