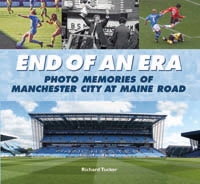 City 2 Liverpool 2
February 3rd 2013 47,301
Now available from Amazon ( click on image for link)
WH Smith and the City shop
Not one of City's best days as we dropped another two points in the race for the Championship. We are now nine points behind United so its not looking good. For most of this game Liverpool had more possession and controlled the midfield. We are missing Kompany and Yaya Toure and the pace of ex City Daniel Sturridge caused lots of problems for our defence and I bet many supporters wished we still had him!. How Oldham beat them in the Cup is a mystery!
They counter attacked with pace and fully deserved a point. Only a wonder goal by Aguero from an impossible position saved City from a defeat. City appeared much too lethargic and even the defence were not up to their normal high standard. Joe Hart was not at his best either. His decision making was at fault several times.
A lot of supporters must have wondered why Tevez never came on in the latter stages to bolster the attack. Milner was the only City player to really shine. He put in a lot of effort.
There was news that Balotelli scored twice in his debut for AC Milan in Italy They beat Udinese 2-1 Balotelli scoring from a penalty in the final seconds.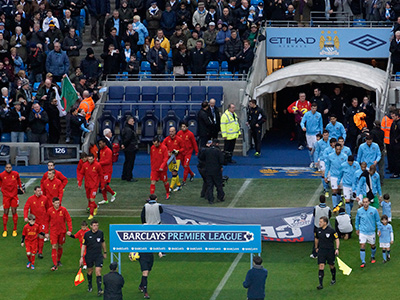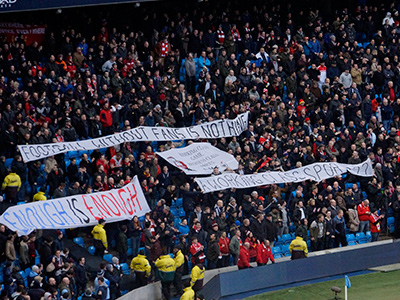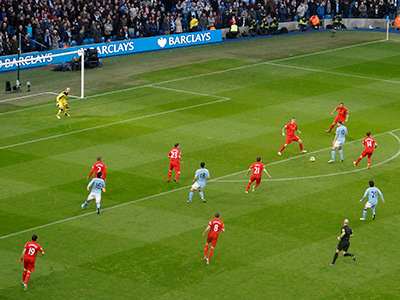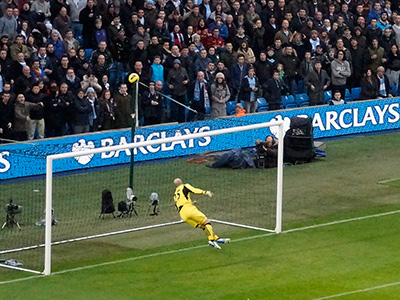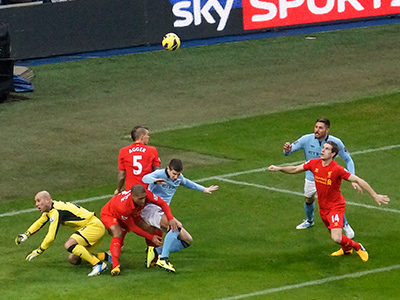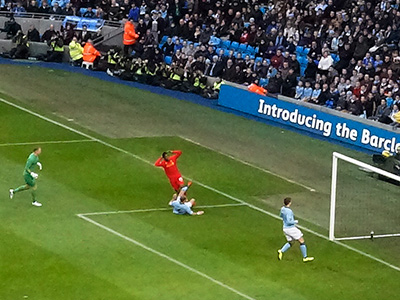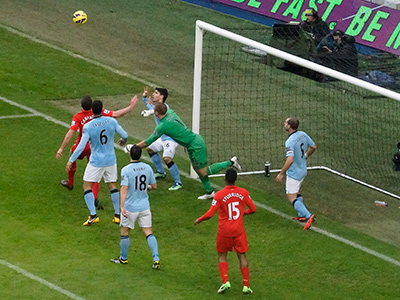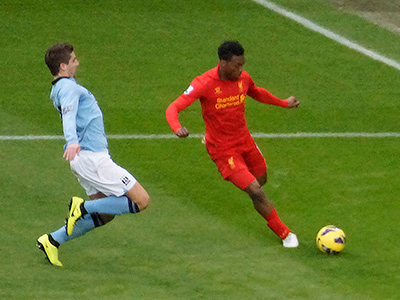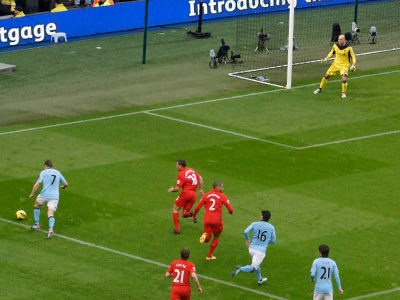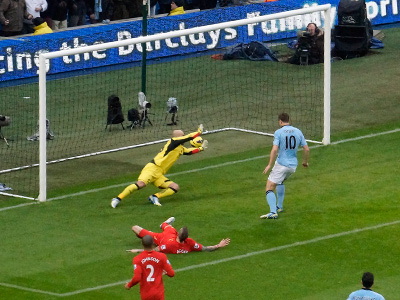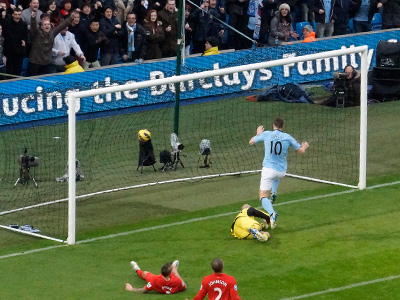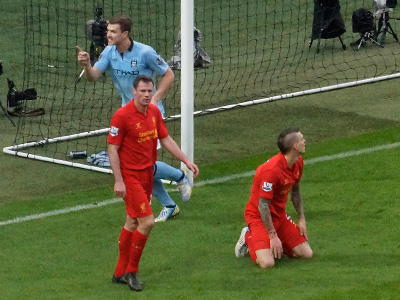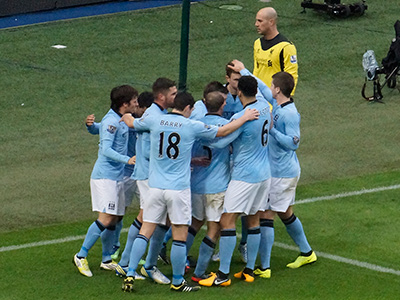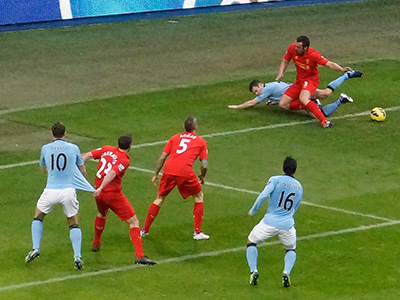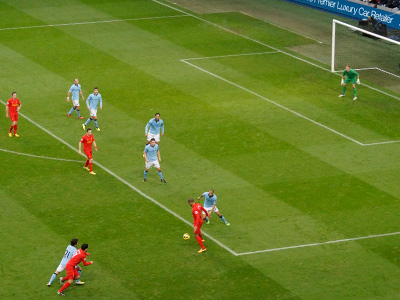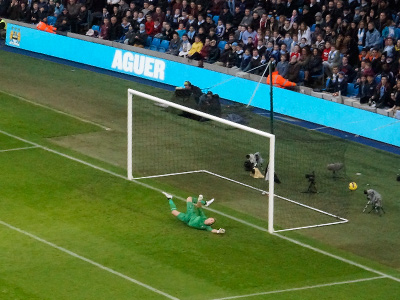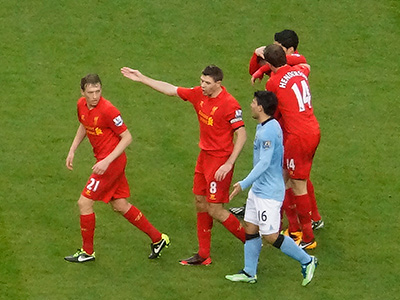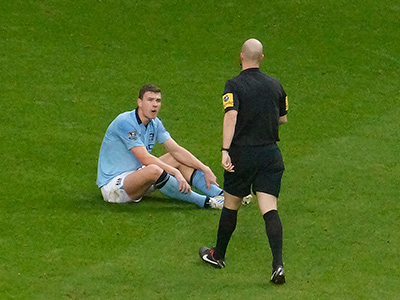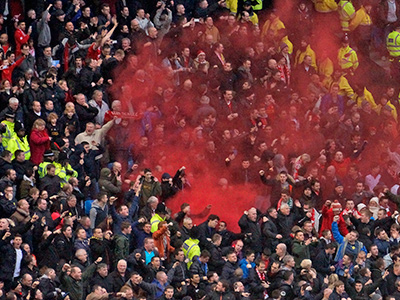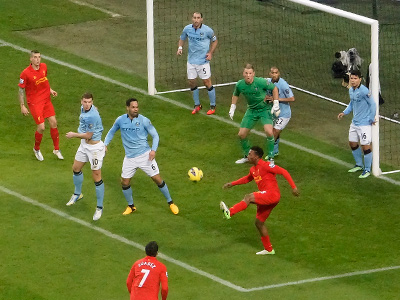 City had Dzeko and Aguero up front with Tevez on the bench. No 4th striker! Nastasic returned to the defence
As expected Liverpool brought good support and some messages for the premiership
City had an early chance when Silva took a pot shot from range which Reina had to tip over the bar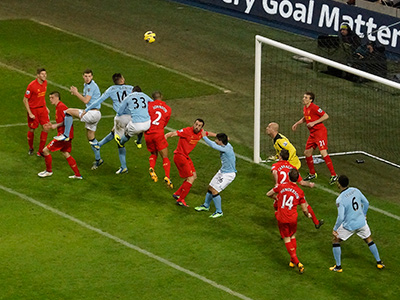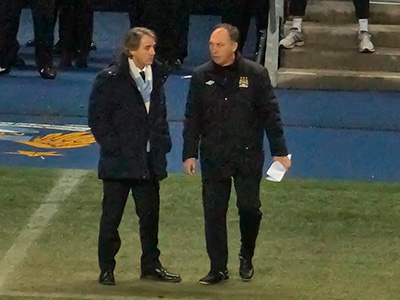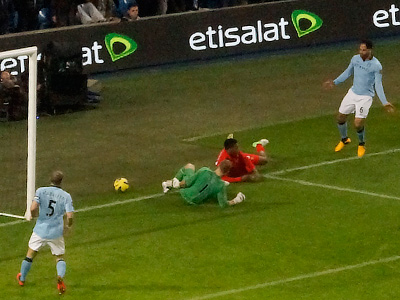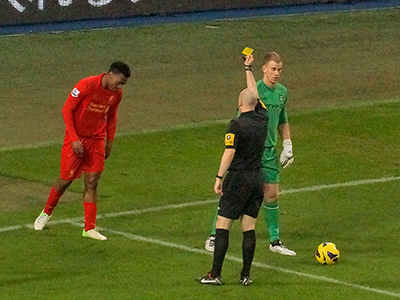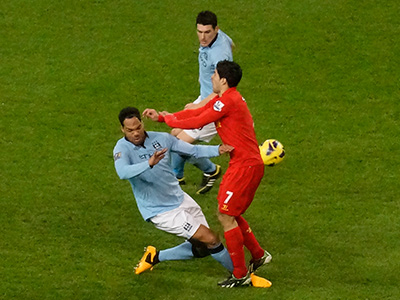 From the corner Liverpool managed to clear eventually
a late tackle by Zabaleta on Sturridge saves the blushes of Hart as Joe makes a mistake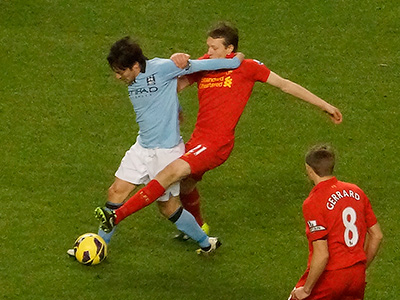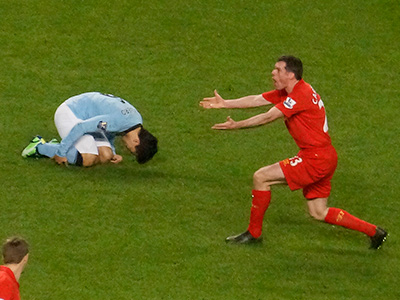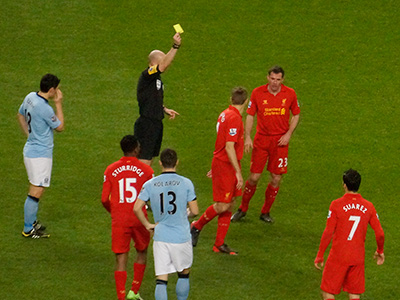 Hart has to punch a corner clear
Nastasic had problems with Sturridge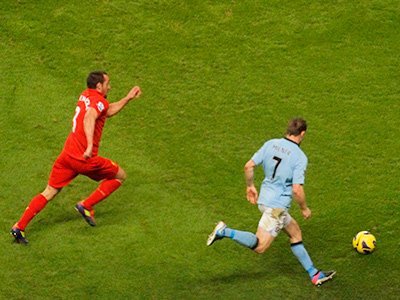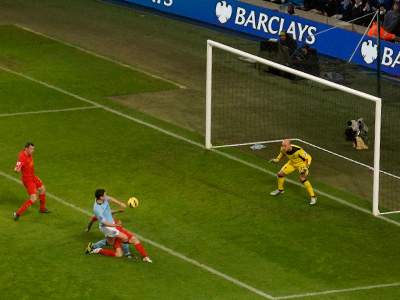 On 21 minutes good work by Silva gave Milner a chance to dash down the wing and his excellent cross was met by Dzeko...
...... who cracked the ball into the net from close range and it was first blood to City
The City team celebrate while Reina looks dejected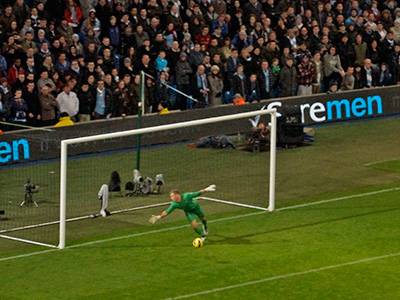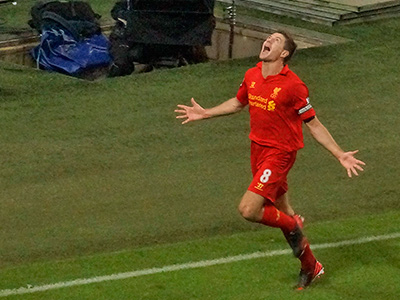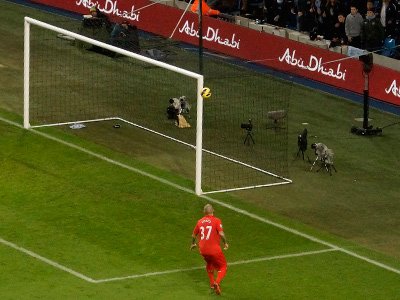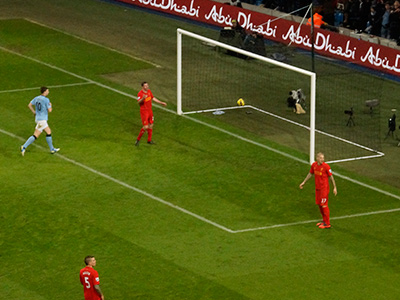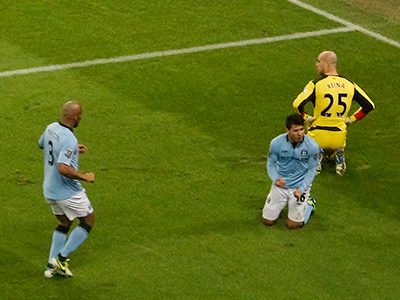 Carragher has a tug on Dzeko's shirt as Milner just fails to cross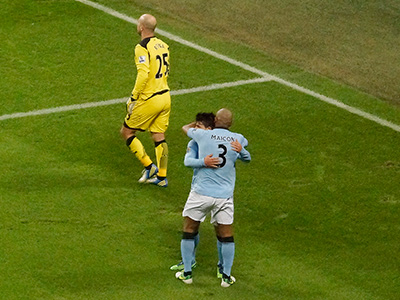 On 28 minutes Liverpool equalized. Garcia failed to clear properly and eventually the ball came to sturridge who shot past Hart from outside the area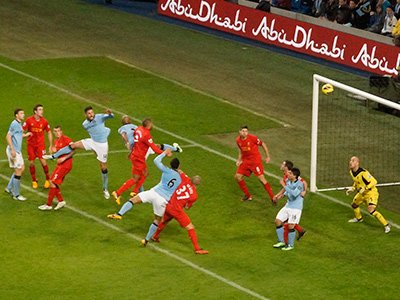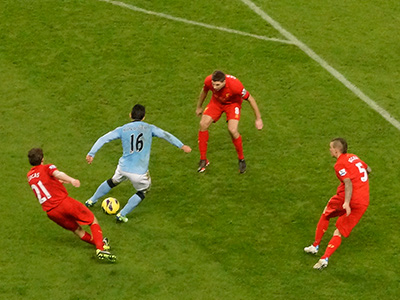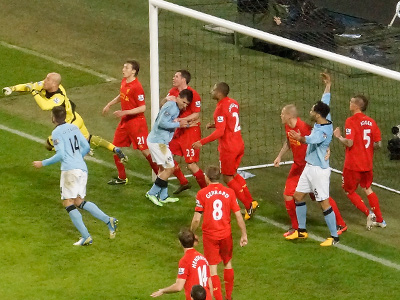 However City thought they should have had a free kick earlier when Dzeko was fouled and he stayed down . The referee did not stop play and I think City players thought the ball would have been kicked out. Dzeko did not appear to be hurt and got booked for his trouble.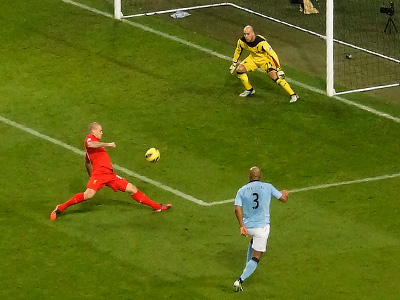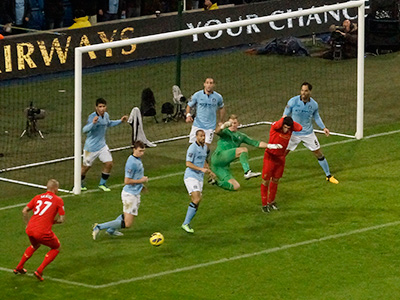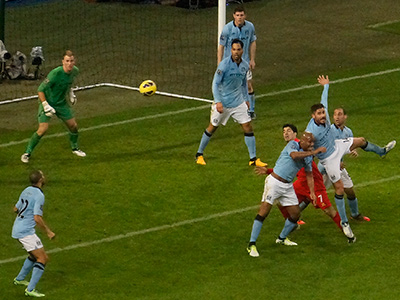 The Liverpool lit a flare to celebrate the goal. Always a bit dangerous
Sturridge continued to cause danger
A header by Garcia goes over the bar
Roberto Mancini and Platt discuss the options.
Sturridge breaks through but when tackles by Lescott does a dive and gets booked
Lescott clears from Suarez
...... but Carragher gets booked!
Milner makes a good run down the right wing but his cross fails to earn City a goal
On 72 minutes a great shot by Gerrard from well outside the area beats Joe Hart and Liverpool go into a two goal lead
6 minutes later Reina left his goal to challenge Aguero for a pass down the right wing and from the narrowest of angles Aguero curls the ball just inside the post for a City goal. Amazing!
It was certainly an amazing effort by Aguero but why Reina came dashing out is a mystery
City force another corner but fail to score
Aguero made a solo effort but just could not break through
A Maicon effort fails to earn a goal for City
In the final minutes Liverpool put pressure on City but 2-2 was the final result
Reina punches a corner clear
Team
Hart 6: Zabaleta 7.5, Lescott 6.5, Nastasic 6.5 (Kolarov 6), Clichy 7: Milner 8, Garcia 6.5, Barry 7.5 (Nasri), Silva 7.5 (Maicon), Dzeko 7, Aguero 7.5