City v Spurs 2-3
December 23 2002 att. 34,563
After the fightback at Charlton and good win at Sunderland hopes were high for this home game with Spurs. The games with Spurs have always been full of good football and incident. I remember the day we thumped them 6-2 in 1962 with Peter Dobing scoring three, Jimmy Greaves scoring the two for Tottenham. It was a wonder display by City I noted at the time. The same year Spurs won the cup beating Burnley 3-1 - one of the many Finals I have managed to see. First time I saw Spurs was way back in 1947 Eric Westwood scoring the only goal for City from the left wing. Notable names in the Tottenham team were Ted Ditchburn in goal , Dix who had guested for Blackpool during the war years and Billy Nicholson who was later to become their manager. Yes and I saw the escapade on ice and snow in Dec 1967 when City won 4-1. But enough of this nostalgia what of this clash in 2002.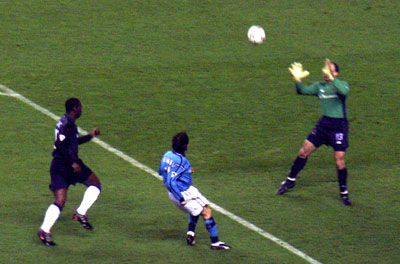 City were unchanged and should have been ahead as early as the second minute when Berkovic had a break down the right flank and tried to lob keeper Keller- left. The ball went agonizingly wide!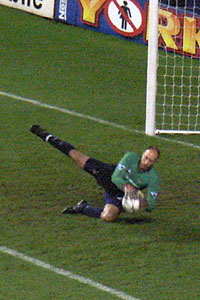 City continued to dominate with Keller kept pretty busy - below right he is saving from Annelka. City were looking good with Berkovic constantly probing the Tottenham defence.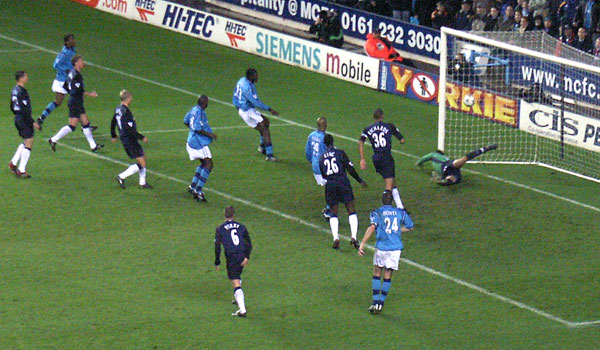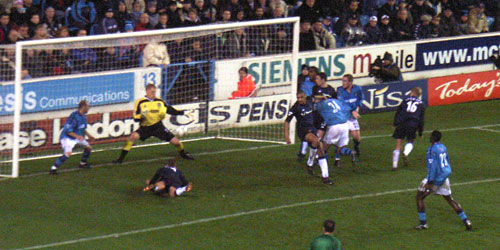 City's lead lasted but 9 minutes. Spurs started to have more possession and won a corner on the right. The left footed corner found Perry completely unmarked at the far corner of the goal area and he was able to head home with ease -left. His marker Foe was transfixed as was Tiatto on the goal line and why didn't Schmeichel come for the corner. OK so it was fast but I have seen Peter S take these with ease. Oh what a lack of concentration by the City defence.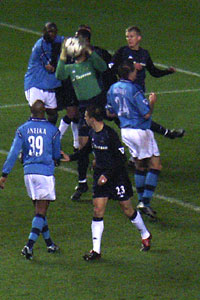 With City running the game and in full flow it just seemed a matter of time before the first goal came.
Keller on the left saving from a corner
Unfortunately luck was not on City's side and when Freund blatantly checked Berkovic as the Israeli was about to break through once more the referee only gave a free kick and not a red card as Freund was already on a yellow! Justice was done as Horlock's sweet left foot from the ensuing freekick found a leaping Howey and the gentlest of glances sent the ball bouncing into the Spurs net. One nil and a deserved lead for City after 29 minutes.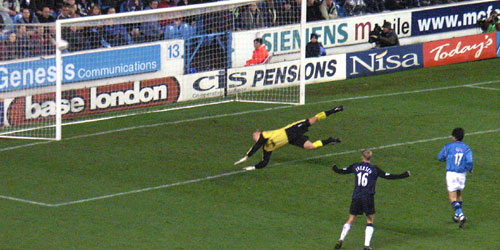 However Schmeichel was earning his keep just before half time when Zeige latched onto a rebound from a City defender and let fly. The City keeper made a great save and at the break honours were even.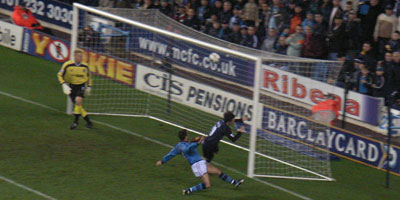 We had barely time to return to our seats when Spurs struck again. Robbie Keane broke down the left and despite the efforts of Dunne put over a great cross to the far post where Welsh international Simon Davies lost his marker and headed home - left.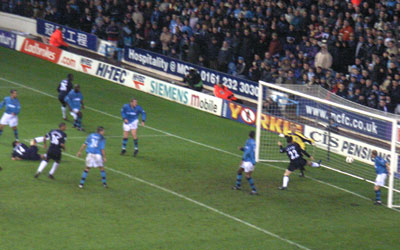 Worse was to come. With just 6 minutes to go with Spurs on top substitute Poyet - on the ground scored from a corner taken by Zeige.
It could have been worse Schmeichel did a 'Weaver' and an uncharacteristic poor attempt at clearing almost gave a goal away.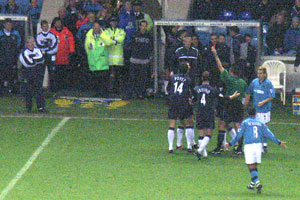 Zeige got himself sent off for a second stupid yellow card offence for kicking the ball away - left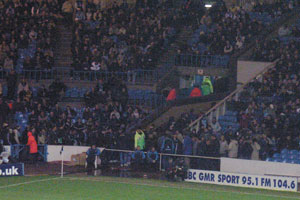 Against the ten men, Benarbia on as sub for a disappointing Sun, scored a last minute second goal for City. By the this time I was trudging across the car park joining many of the other disappointed fans streaming out of the ground - right
So what went wrong ? After such a promising start City lost confidence against a well organised Tottenham side. City's defence at corners lacked concentration. For once Jihai Sun didn't have a good game and Goater looked lost up front. The sooner City get a partner for Anelka the better. Will it be Klose I wonder ? Benarbia looked back to his best form in the last 20 minutes. Too many half chances went astray and against Premiership opposition you cannot afford such luxuries. With the Villa game coming up on Boxing Day will Keegan make changes? Perhaps playing both Benarbia and Berkovic and bringing in Huckerby for Goater. We will see.
Team :-Schmeichel 6: Dunne 6, Howey 6 , Distin 7: Sun 5, Berkovic 7, Foe 6, Horlock 6, Tiatto 6: Goater 5 Anelka 7
---
City v Aston Villa 3-1
December 26th 2002 att. 33,991
After the disappointment of the Spurs result I suppose we were expecting more than the one change that City made for the game with Villa -Wright -Phillips taking over from Jihai Sun who was not even on the subs bench - injured perhaps? Villas's away record was poor so I was expecting a comfortable win.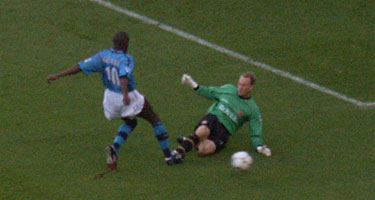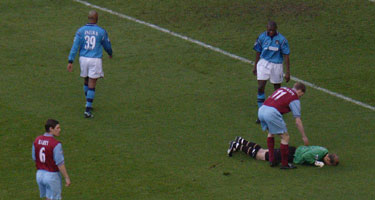 City nearly scored in the opening minutes when a back pass went stray and Goater and Enckelman collided leaving the Villas prostrate for a minutes or so. He resumed after attention. The ball went for a corner.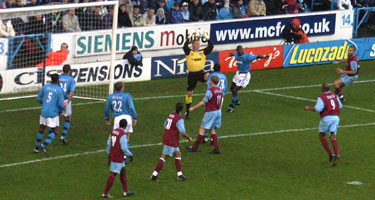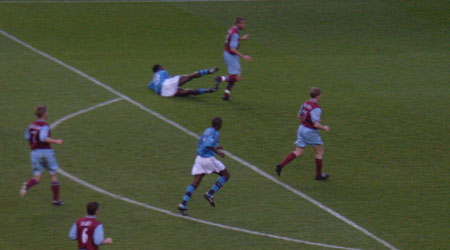 Villa did not have much to offer early on and Schmeichel was able to deal with their efforts. However his kicking left much to be desired and on a couple of occasions miskicks went to City players rather than the opposition. I had memories of some of Weavers efforts a season or so ago and after his narrow escape from an embarrassing gaffe against Spurs I was beginning to wonder if age was telling.
To the delight of the holiday crowd City took the lead after 15 minutes. A long ball from Schmeichel found Anelka and Goater passed to Vivian Foe who scored with a left foot shot as he was falling - right. One nil to City.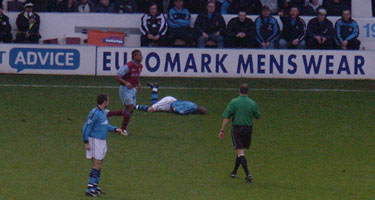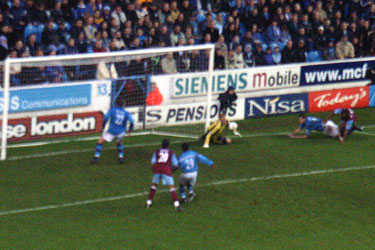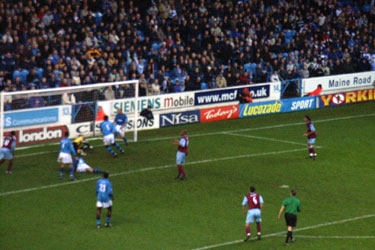 City made further chance but like the previous Monday evening spurned them. Tiatto was dumped by Ulises de la Cruz who was booked for the offence. Perhaps injured in the tackle the Australian did not resume after half time his place being taken by Jensen.
Just before half time Villa began to pressurize the City defence and immediately after Schmeichel had saved from Cruz , Dublin made no mistake after a cross from Samuel. 1-1 and was the unease of the City faithful being carried onto the field as Villa ended the half strongly.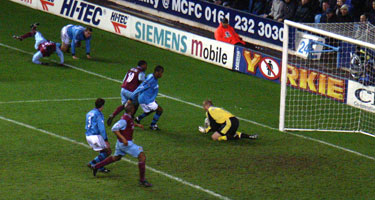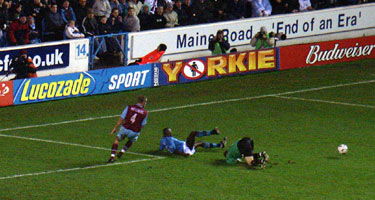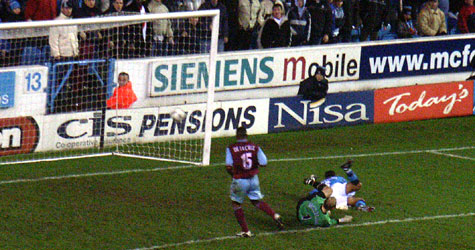 With just 8 minutes to go a terrific move started at the half way line - Anelka taking a long pass from Berkovic, held the ball up sufficiently for Benarbia to gallop up to the six yard line it ended with a wonderful header by Ali Benarbia who threw himself full length to head in from Anelka's bullet cross. 2-1 to City and Villa were shell shocked and there was more to come ...
Just 2 minutes later Ali was at it again as he delicately chipped a delightful ball forward for Marc Vivian Foe to crash home for the third - right.
Foe has now scored 5 goals in the last 4 games - not bad for a so called holding midfielder. He certainly seems to be enjoying his new fold role as scorer!
If he had taken an easy chance earlier he would have had a hat trick. It was the exquisite skill and instinctive football brain of Benarbia that made it.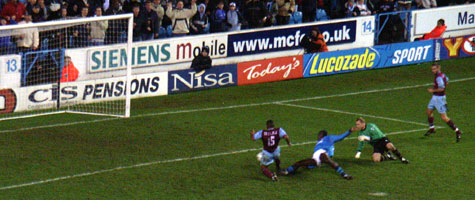 It was turning into a scrappy game with neither side gaining the advantage. Clear chances were few and far between so after 60 odd minutes Keegan decided to play his ace - his secret weapon - Ali Benarbia ! and what a secret weapon. Within minutes of his arrival on the pitch he had hit the bar with a beauty and delivered several delicious passes cutting the Villa defence to ribbons. He took over from Wright -Phillips who was not having the best of games. As soon as Huckerby replaced Goater who looks less and less Premiership class as the season progresses, Anelka livened up and City looked more dangerous.
Man -of-the-match was easily Ali Benarbia who has struck a wonderful vein of form when he has come on as sub. After the summer break he had disappointed in the early games but now can Keegan dare leave him out? A difficult decision as the super sub may not have the legs at 34 to last a full game at Premier pace. In addition if he is not in the starting lineup it is difficult for the opposition to plan ahead too much to cope with his skill, so coming on with fresh legs at some stage in the second half has its advantages. Villa could not cope with him and time and time again he found time and space to cause havoc in the Villa defence.
Team :-Schmeichel 6: Dunne 6, Howey 6, Distin 7: Wright-Phillips 5 (Benarbia 10+) , Berkovic 8, Foe 8, Horlock 6, Tiatto 6 (Jensen 7): Goater 5 (Huckerby 7), Anelka 7: