Manchester City v Middlesbrough 0-0 att. 34.793
April 12th 2003
After the last two dreadful away results against Chelsea and Bolton there was an air of nervousness at this, the very last Saturday game to be played at Maine Road . Could the players do themselves justice and lift the hearts of the supporters. Some hope ! OK so the sun was shining and the threat of relegation had diminished but there was a need to show some pride in the blue shirt of City. Not to be I am afraid. It ended it an uninspiring nil nil draw with neither keeper having a difficult save to make. Schwarzer was marginally the busier keeper and we had the unusual experience of seeing City's 'strike force' of Fowler and Anelka being substituted with 25 minutes to go. Yet again they failed to conjure up a good chance though to be fair they did not get much in the way of support. Macken and Goater enlivened the proceedings but how this dull as dishwater game needed a goal to bring it to life. The only plus point for City was the home debut of Joey Barton. He had an almost faultless game, his precise passing having a high percentage of success. He fitted in well and should keep his place. Against the experience of Southgate and Ehiogu headway down the middle was difficult so with a disappointing lack of penetration down the flanks any sort of chance was a minor miracle. Wright - Phillips looked out of position at left midfield and Berkovic looked out of sorts -he was substituted at half time. Incidentally a rather over weight Geremi who I understand another Manchester team are interested in looked far from impressive.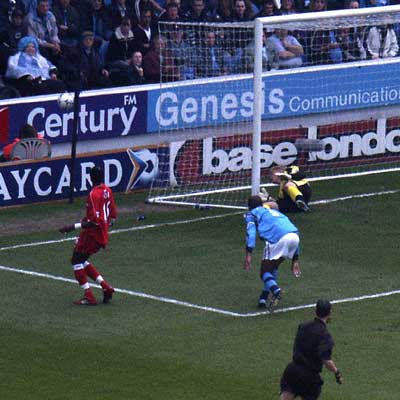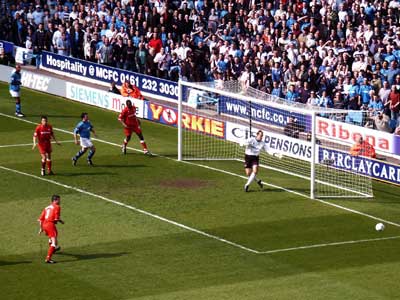 On the left Job misses a chance for the visitors in the first 30 seconds. City had a chance 3 minutes later but Foe sent the ball miles wide- above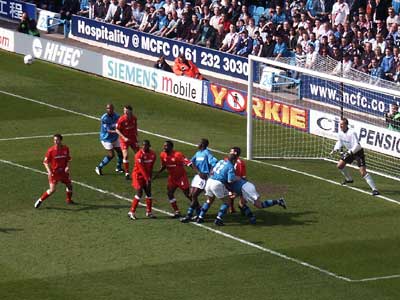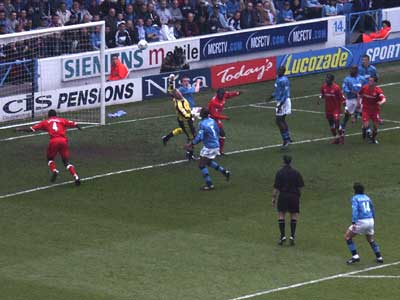 Early flutters in both goal areas flattered to deceive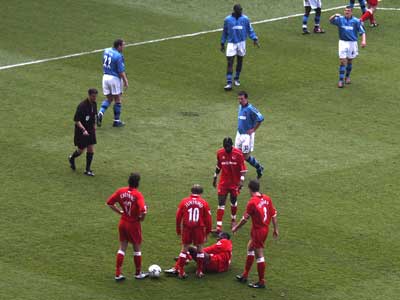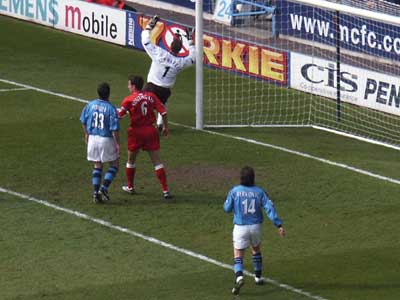 Dunne clattered one of the opposition who gets sympathetic support from his team mates. Dunne got a talking too by the ref but no yellow card.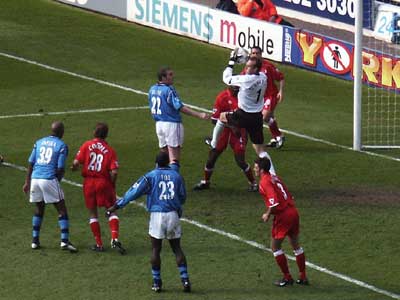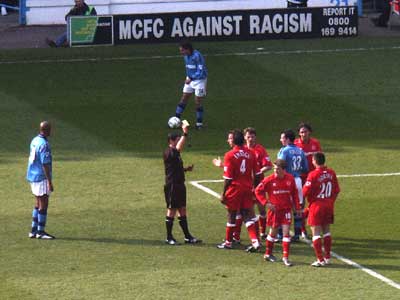 A City corner actually gives the Middlesbrough keeper a catch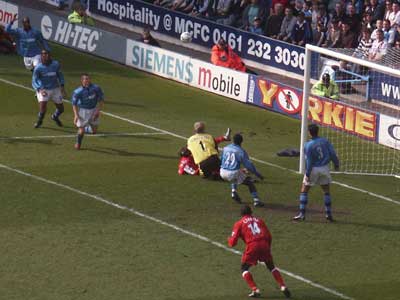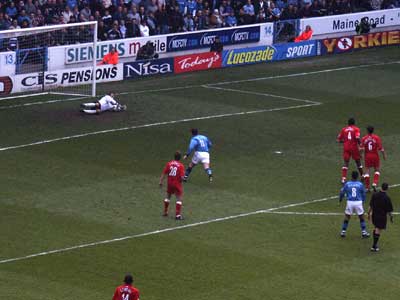 The only moment of danger for City was when Schmeichel collided with Juninho but when the ball ran clear City managed to clear.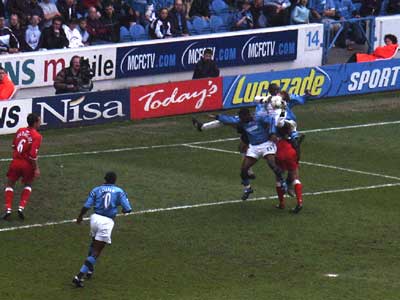 Schwarzer makes a good catch under pressure.
Team
Schmeichel 6: Sommeil 7, Dunne 5, Distin 6, Wright-Phillips 6, Barton 8, Berkovic 6 (Benarbia 6), Foe 6, Jensen 6: Fowler 5 ( Macken 7) Anelka 6 (Goater 6)
Yet another City attacks fails to test Schwarzer.
The only yellow card of the game given to Ehiogu for a foul. The free kick was wasted -as usual.
Sarcastic cheers rang around the ground when after about 25 minutes in the second half an Annelka shot caused Schwarzer to dive and save.
Macken's shot goes over the bar - it was offside anyway

Manchester City v Sunderland 3-0 att. 34.357
April 21st 2003
An away win against Spurs on Good Friday with City playing some good football and with visiting Sunderland already relegated the City faithful were all set for a goal feast! Well not quite. It was a comfortable win for the unchanged team. It was easy to see why Sunderland were going to be in Division One next season and the only consolation for the visiting Sunderland fans is that next season there will be more games to watch.
It was sad to learn that ex City striker Uwe Rossler had been diagnosed with lung cancer. He made such a good partnership with Walsh a few years ago.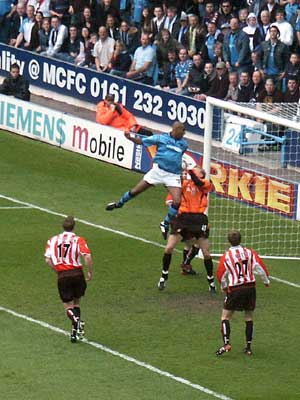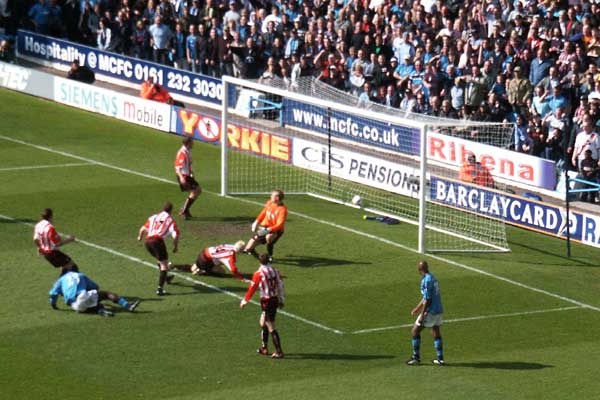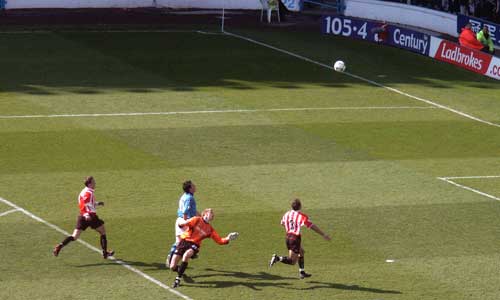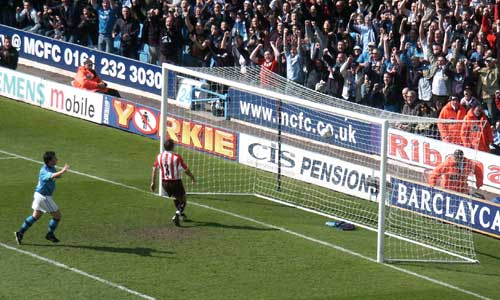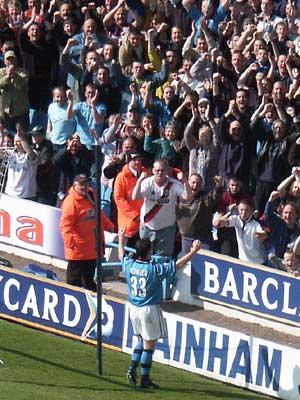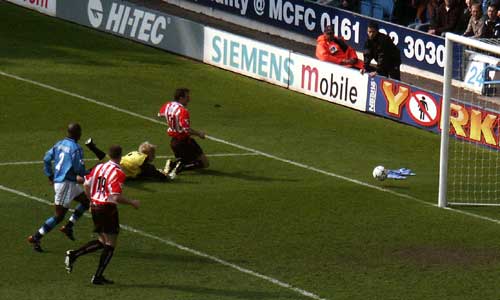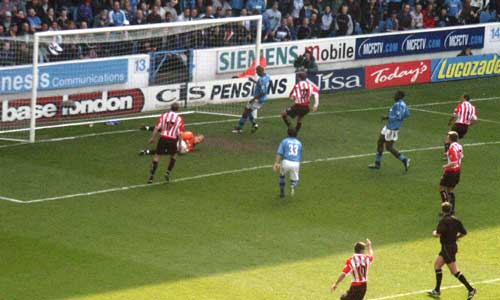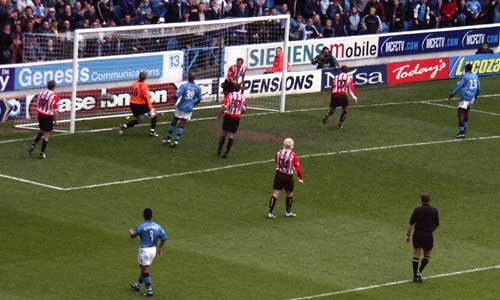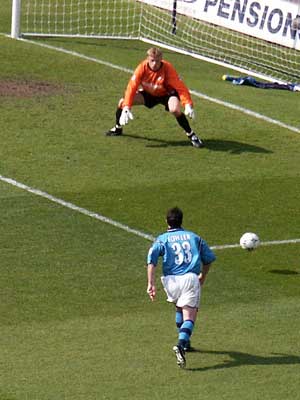 Anelka puts Poom under pressure
Fowler fails to test the waiting Poom as the ball runs away from him
After 36 minutes City took the lead. Anelka's run down the right following a pass from Wright -Phillips ended with Foe slotting home after a great cut back from the French man
Just two minutes later and it was two nil for City. Benarbia was the provider this time. A through ball found Fowler on the edge of the area and as Poom came dashing out for the ball Fowler brilliantly chipped the ball over the keeper towards the goal - left.
The ball landed in the Sunderland goal - above and Fowler celebrated only his second goal since joining City - left
Peter Schmeichel who announced his retirement after the game against Middlesbrough had little to do against Sunderland. His double save - left - being his only moment of real action.
City continued to press and Poom was kept very busy - right.
Eventually City got their third when Belamdi who had replaced Dunne just before half time crossed from the left and the unmarked Foe was once more there to side foot home. Three nil and comfortable.
An easy win for City against a poor Sunderland. It should have been five with better finishing. Once again Barton acquitted himself well but man of the match was young Shawn Wright-Phillips who goes from strength to strength. He saved his best runs until he was moved from left midfield to right wing back to accommodate Belmadi when City switched from a flat back four to three at the back when Dunne when off injured. Belmadi looked a little unfit at times but Benarbia was back to his best form in the absence of Berkovic.
Team
Schmeichel 6: Dunne 4, Distin 7, Sommeil 7, Jensen 7: Foe 7, Barton 7, Wright-Phillips 8, Benarbia 8 : Anelka 7, Fowler 6.