To the City fans who sit near me - We'll meet again - I know just where but don't know when!
Sorry I could not get to my seat this time so it's plan B for the time being.
City 3 Arsenal 0 June 17th 2010
After a dullish first half hour City started to dominate and a series of gifts by Luiz set the seal to a City victory. Sterling took advantage of poor control by the Arsenal defender to crack the ball past the keeper just before half time. There was worse to come for Luiz when a great long ball by Ederson set Mahrez going for goal and Luiz brought him down to earn City a penalty and a red card for himself. Kevin De Bruyne sent Leno the wrong way to put City two up. But for some good saves by their keeper City might have had the game well won before Foden made it three nil late on. The major negative moment for City was the injury to Garcia injured in a collision with Ederson who was clearing. He was taken to hospital but I understand he has now left it. I hope he will be back in action soon.
It is a long time since I watched a league game in June - on June 14th 1947 I was at Maine Road to see City beat Newport County 5-1 - George Smith scored all 5 for City -the team was Swift,Sproston Barkas Fagan, McDowell Walsh, Dunkley Herd, Black, Smith and Clarke. Roffi scored for Newport. There were 22,000 there - a lot more than the Arsenal match!
It was also the debut of Roy Clarke - a great winger.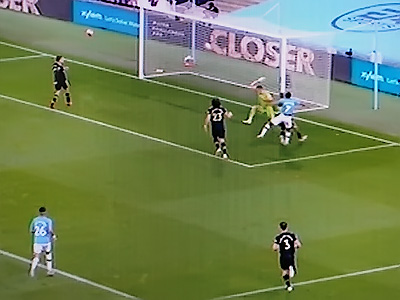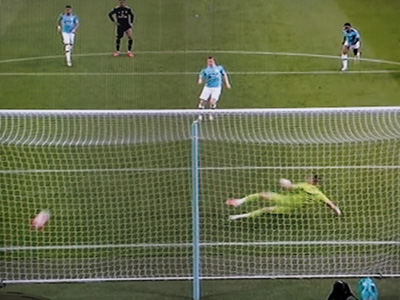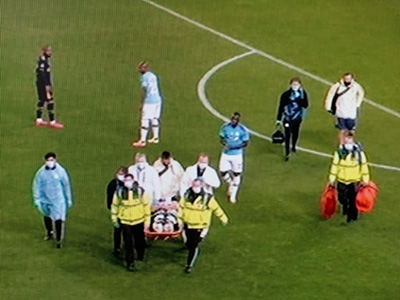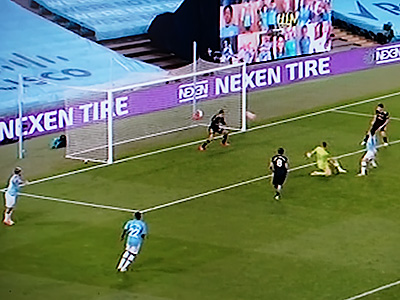 De Bruyne scores the penalty
team
Ederson 7.5: Walker 7, Garcia 7, Laporte 7.5 (Fernandinho), Mendy 7: Gundogan 7, Silva 7 (Benardo) De Bruyne 8 (Rodri) Mahrez 7 (Foden) Sterling 7, Jesus 6.5 (Aguero)
City 5 Burnley 0 June 22nd 2020
An easy win for City who had made 8 changes from the Arsenal win. After a slow start Foden opened the scoring with an excellent effort following a short corner. It was nearly half time when a great long pass from Fernandiho found Mahrez who drove forward and cracked the ball past Pope for number 2. Almost on half time Aguero was fouled by Mee and good old VAR confirmed the event and as Aguero had departed injured Mahrez banged the spot kick home for number three - game well over. Good work by Stockport Phil gave Silva a chance from close range for number four and Foden himself completed an excellent performance to be man-of-the-match. It was the third time City have scored five goals against Burnley in the past 2 years.
Ederson hardly had anything to do so the 'new ' defence had an easy evening with Zinchenko enjoying himself down the left flank. Shame Aguero got injured - hope he is fit for the Chelsea game.
I forgot to mention in the notes for the last game the sad death of Glyn Pardoe, It brought back memories from the past. He had the record of being the youngest player to have appeared for the first team. He was only 15 and 300 plus days old when I watched him play against Birmingham in 1962.
. The City team that day was - Trautmann, Kennedy, Sear: Benson, Leivers, Oakes: Young, Dobing, Pardoe, Hayes and Wagstaffe. Glyn played over 300 league games for City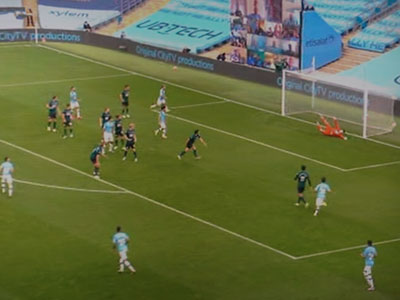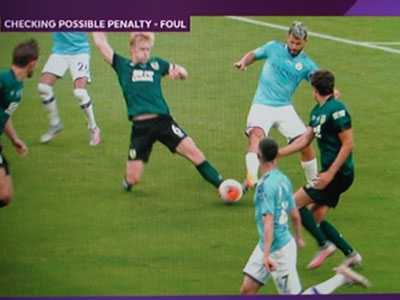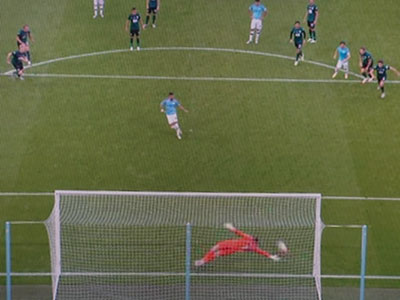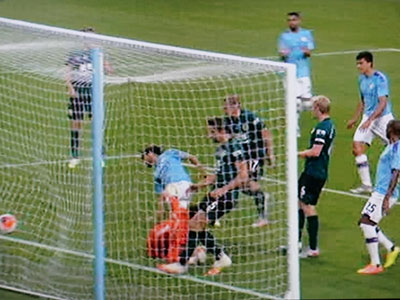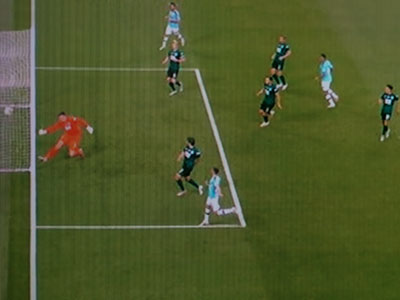 Foden scores from well outside the area
VAR makes the decision and Mahrez beats the keeper for number three
David Silva scores from close range
Foden completes the scoring and a great individual performance -his best for City -so far
Ederson 6.5: Cancelo 6.5, Fernandinho 7.5 (Laporte) Otamendi 6.5, Zinchenko 7: Rodri 6.5, Silva 7, Foden 8.5 (Sane)
Mahrez 7.5 (De Bruyne) Benardo 6.5, Aguero 6 (Jesus)
.
City 4 Liverpool 0 July 2nd 2010
Following defensive errors leading to a defeat at Chelsea and then an easy cup win at Newcastle City were back to their very best against Liverpool overpowering them four nil and it could have been more. After Liverpool had missed a couple of opportunities Jesus was brought down by Gomez near the goal and De Bruyne continued his recent penalty successes to put City ahead on 25 minutes . Sterling made it two nil 10 minutes later and with City now dominating the play Foden scored an excellent goal after a 1-2 with Kevin. So three nil at half time - last time Liverpool trailed by 3 at half time was in May 2015 - they lost 6-1 to Stoke!
Ederson had little to do except to play as an extra midfielder!! Another shot from Sterling that was going wide was put into his own goal by Oxlade-Chamberlain to make it four nil and right on full time City made it 5 but it was disallowed for a hand ball a few seconds earlier - pity! Overall a terrific display by City with Kevin De Bruyne the star and Phil Foden not far behind. Foden is really looking like a successor to David Silva. He deserves more starts! However at the moment Jesus does not look as good a scoring forward than Aguero!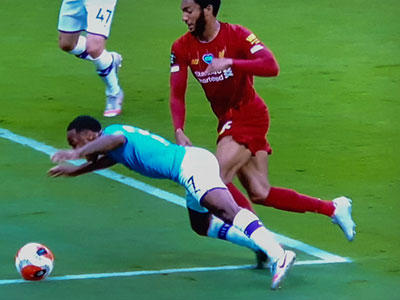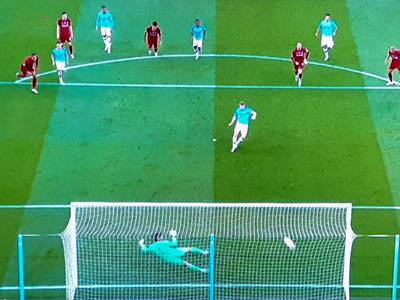 Gomez bundles Sterling over and De Bruyne sends the keeper the wrong way to make it one nil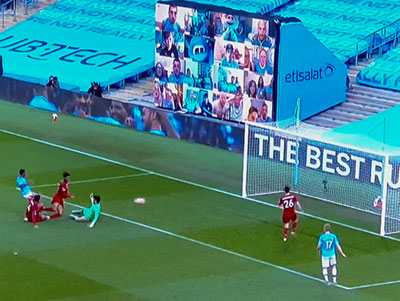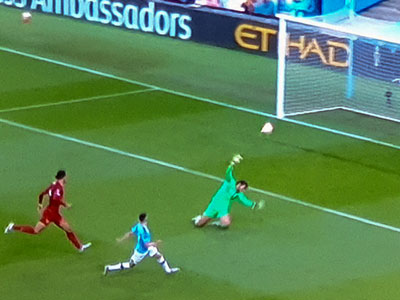 Phil Foden cracks in number 3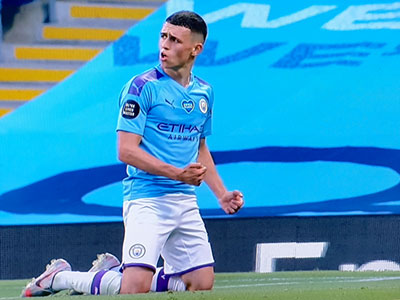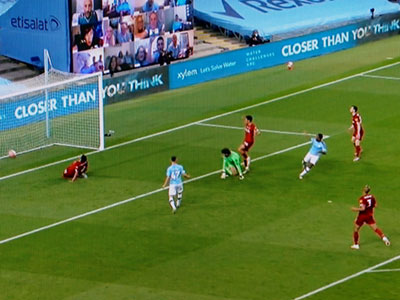 I think Phil liked that one!
Sterling's shot is deflected in for number4
Ederson 7.5: Walker 7(Cancelo) Garcia 7.5, Laporte 7.5 (Otamendi), Mendy 7: Rodri 7.5 , Gundogan 7.5, Sterling 8 (Benardo)
De Bruyne 9 , Foden 8.5, Jesus 6.5 (Mahrez)